Chole is a popular dish from North India that is made with chickpeas cooked in a spicy curry. It is often served with bhature, puri, naan, or rice. It is a popular dish for breakfast, lunch, or dinner and is enjoyed by people across the world. Chole is usually made with a combination of spices, such as cumin, coriander, garam masala, turmeric, and black pepper. It is also often garnished with chopped onions, tomatoes, and cilantro.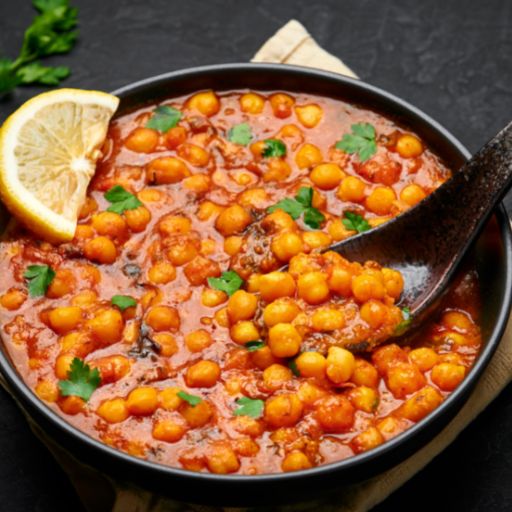 Ingredients
2 cups chickpeas (garbanzo beans), cooked
2 tablespoons olive oil
1 teaspoon cumin seeds
1 onion, chopped
2 cloves garlic, minced
1 teaspoon ginger, minced
1 tablespoon coriander powder
½ teaspoon turmeric
1 teaspoon garam masala
2 tomatoes, chopped
2 green chilies, chopped
1 teaspoon salt
1 tablespoon lemon juice
2 tablespoons cilantro, chopped
Cooking Instructions
Heat the oil in a large pan over medium heat. Add the cumin seeds and cook for 1 minute.
Add the onion and cook until golden brown. Add the garlic and ginger and cook until fragrant.
Add the coriander powder, turmeric, and garam masala and cook for 1 minute.
Add the tomatoes, green chilies, salt, and lemon juice and cook for 5 minutes.
Add the cooked chickpeas and cook for 10 minutes.
Garnish with cilantro and serve.
Nutrition
Calories: 206 kcal
Carbohydrates: 28 g
Protein: 8 g
Fat: 7 g
Saturated Fat: 1 g
Sodium: 733 mg
Potassium: 468 mg
Fiber: 7 g
Sugar: 4 g
Vitamin A: 299 IU
Vitamin C: 22 mg
Calcium: 57 mg
Iron: 3 mg
Read More